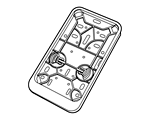 Beauty lies in the details, and that also goes for the finishing of your Puch. The correct plate holder completes your Moped. P> Read More
Beauty lies in the details, and that also goes for the finishing of your Puch. The correct plate holder completes your Moped. P>
License plate holders
JMPB Parts is known as the moped parts specialist. And also at us you can see that in the selection of the smallest parts such as mounting sets for the plate holder. These sets consist of two screws and matching caps to shield them off. The sets are available in different colors like blue, yellow, black and white. In addition, the screws and caps are even available separately!
Various versions, various colors
On top of this in our webshop you can find plate holders. These holders are vulnerable and are in everyday life moped regularly broken or damaged. Replacement is simple and the license plate holders are very competitively priced. They are available in different versions, both landscape and standing, chrome or in white or black plastic. Want to make the plate fully complete? Then order one of our Puch stickers!