Stickers for your Puch Maxi, MV, VS or Monza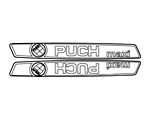 Puch stickers, emblems, at JMPB you will find not only the widest range of moped parts, we also have everything for the real Puch fan, who wants to show what he stands for. P> Read More
Puch stickers, emblems, at JMPB you will find not only the widest range of moped parts, we also have everything for the real Puch fan, who wants to show what he stands for. P>
Decorate your Puch
You can choose from more than 200 Items to decorate your Puch, for the finishing touch of an extensive restoration project. Classic Puch logos are available in various diameters. These can of course be placed on the frame of the moped or in some other prominent place in order to show the Puch brand. In addition, of course they are perfectly suited to brighten up your garage or workshop.
Malossi and Simonini stickers and more
Puch stickers are only a small part of the total range as also found in the shop also decorative stickers and strips, Malossi and Simonini stickers, number stickers, wheel band stickers, sponsorkits of Renthal / Bridgestone, and Pirelli / Michelin Etc In short everything in Puch promotion can be found at JMPB Parts!