Bolts & Nuts | Yamaha FS1 | DT | RD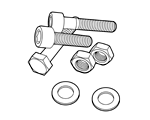 You moped kept as original as possible, that is the key to most fans of Oldtimer Mopeds. Of course there are of all kinds of gradations what is original and what is not, but it is a fact that thousands of enthusiasts go to great lengths to keep their Oldtimer Yamaha as original as possible. These are those who seek to win the ultimate showroom condition of their cherished possession that prices at club events or other events. P> Read More
You moped kept as original as possible, that is the key to most fans of Oldtimer Mopeds. Of course there are of all kinds of gradations what is original and what is not, but it is a fact that thousands of enthusiasts go to great lengths to keep their Oldtimer Yamaha as original as possible. These are those who seek to win the ultimate showroom condition of their cherished possession that prices at club events or other events. P>
Winning or losing depends in this case on the smallest details and it is so good that you really can order all parts from Yamaha at JMPB. And we mean all the small pieces. Under "Mounting material" you can find all the nuts and bolts Yamaha FS1, DT or RD. You will find, not only the right but also the matching screw cover cap In 8 different versions! The bolt for ignition cover FS1 or the cap nut for your shock absorbers are here in stock. P>
Almost all bolts, nuts and discs this category are Original Yamaha.
For other bolts & nuts look in the category Universal Bolts and Nuts.in both galvanized and stainless steel.
Also all sizes hose clamps, circlips, shims, copper rings, various caps and
grommets in all sizes and various assortment sets of frequently used handy items.