Various frame parts for classic mopeds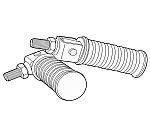 Here you will find a wide range of frame parts for oldtimer mopeds. We have many products for Sachs and Peugeot mopeds, and you can also order new frame parts online for other brands. All parts are original or of aftermarket quality. All delivered quickly for competitive prices!

Rear carriers and fenders
What do we offer? We have a nice selection of rear carriers and fenders for Sachs and Peugeot. The rear carriers are chromed and available in various versions. The fenders are chrome-plated or unpainted. In the latter case, you can choose in which color you paint the fender. You can also easily order the necessary mounting material for the fender, such as a fender bracket.

Technical parts
We also supply all kinds of other frame parts that fit with your classic moped. These are, for example, bells with a Solex, Sachs or Flandria logo. We also have buddyseat covers for Sachs and Kawasaki including the mounting material. And how about stickers to pimp your moped? You can find it all here. Finally, we have not forgotten the technical parts. Think of several types of fuelcocks, pedal arms, chain tensioners, clutch handles and a wide choice of spokes.