Puch lighting, Headlights, Taillights & more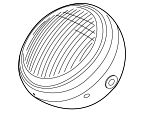 For the real enthusiast Puch is important that the correct lighting is mounted on the vehicle. Not only for safety but also for the right look! P> Read More
For the real enthusiast Puch is important that the correct lighting is mounted on the vehicle. Not only for safety but also for the right look! P>
Lighting for an original look
Original moped lighting is becoming increasingly scarce, but fortunately there is good news. Because at JMPB we are able to provide you with excellent aftermarket lighting for an original look of your Puch or other vintage mopeds. Popular example, the chrome Hella taillight. This vintage model is suitable for Puch Maxi / MV / VS and for Tomos, Zundapp and Kreidler mopeds. Another striking is the universal Maltese taillight, that can be mounted on the Puch Maxi.
In gray, chrome or black
Also in headlights, we offer a wide choice of moped lighting, the distinctive 'egg' to square LED lamps in Gray, chrome or black. These lamps can be further decorated with matching headlamp grills or mounted in a headlight spoiler. Of course also all matching parts such as loose bulbs, switches and wiring from stock available.