Kreidler Tires | Many sizes and profiles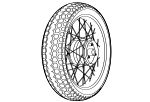 Is your Kreidler in need of a new set of tires? Check here to see our assortment! In our webshop you will find a wide choice of tubes and tires and all items for mounting them easy, such as tire levers, tire paste, and so on. P> Read More
Is your Kreidler in need of a new set of tires? Check here to see our assortment! In our webshop you will find a wide choice of tubes and tires and all items for mounting them easy, such as tire levers, tire paste, and so on. P>
On this page you will find all our Kreidler tires, for our full range of tires please Click here.You can easily filter by brand, tire size or type of profile.
We also supply all related items such as tire levers, inner tubes and Hub brushes.
Check before ordering the correct size!

Tip, also think of these articles for easy mounting!
| | | | | | | |
| --- | --- | --- | --- | --- | --- | --- |
| | | | | | | |
| Mounting paste | Tire levers | Rim tape | Valve puller | Tire Pliers | Mounting tools | Mounting gloves |
To help you make the right choice, on this page you can easily filter, by brand, tire size and type of profile. For each Kreidler moped we have the best tire in stock. Do you prefer a classic look? Then the 17-inch whitewall tires from Continental and Anlas highly recommended. Road tires are also in different types, from simple 'all weather' tires to cross tires and even semi-slicks from top brands like Continental, Dunlop and Michelin. P>
Once you have found the right tire. Please do not forget to order our tire levers and mounting paste. This makes mounting easier and saves a lot of hassle to get the tire again on the rim. Finally, to keep the wheel hub clean give it a matching hub brush. That saves a lot of pain and effort when cleaning the hub! P>