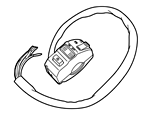 The electrical system of the average moped is fairly simple, but nonetheless malfunctions can occur or parts need to be replaced. All these specific parts such as fuses, switches and various relays can be ordered online at JMPB Parts! P> Read More
The electrical system of the average moped is fairly simple, but nonetheless malfunctions can occur or parts need to be replaced. All these specific parts such as fuses, switches and various relays can be ordered online at JMPB Parts! P>
Fuses, switches and more for your moped
In the field of fuses you can choose between glass fuses and plug fuses (also known as fusible fuses). These are available in complete sets of 40, 60, 100 or 120 pieces. This way you can be confident that a blown fuse can quickly be replaced. It is of course important that you first find the cause of the burn through! You can also contact us for a wide range of switches. Like universal switches, pushbuttons, dip switches, kill switches, pull switches and handlebar switches.
Everything to keep your battery in top condition
Other interesting parts for your moped are our horns for 6 Volt and 12 Volt installations as well as the universal battery chargers. This ranges from simple and affordable drip chargers to advanced devices that keep your moped's battery in top condition when it is not used for a long time, for example in winter. Also indispensable are the various moped relays and voltage regulators in our webshop. You can order everything easily online and benefit from fast delivery.