Puch – Fenders, Side panels, Mounting parts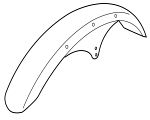 Fenders, side panels and many more bodywork and mounting parts for Puch Maxi, Dakota, Monza or MV / MS / VS: You can find it at JMPB Parts p>. Read More
Fenders, side panels and many more bodywork and mounting parts for Puch Maxi, Dakota, Monza or MV / MS / VS: You can find it at JMPB Parts p>.
Replace broken fenders and side panels
The bodywork of your Puch largely determines the appearance of the whole moped. Poorly maintained bodywork as fenders and side panels goes dull or rusts, causing a moped to literally lose its shine. And that is terrible because most Puch drivers cherish their proud possession every day. Fortunately, most of the bodywork for Puch can be ordered online at JMPB so you can easily replace worn fenders and other parts.
Wide selection in bodywork
There is not only has a wide selection of fenders as well as fender brackets, side panels, foot boards, headlight spoilers and more. Much of the bodywork is available in various materials and designs. Front and rear fenders are performed in, for example primed, chrome or stainless steel so you can buy the one that best suits your personal preference. Of course we also always match the mounting parts in stock, such as stainless steel screws for stainless steel fenders.